House Plans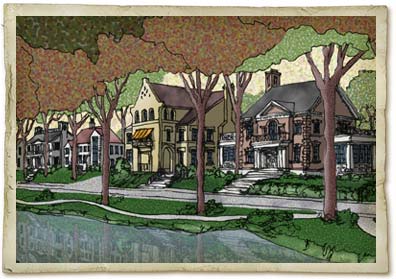 Each home's front façade will begin 15 feet from the edge of the lot providing ample room for a front lawn. Each front lawn will be landscaped with a canopy tree, ornamental tree and a combination of evergreen and flowering foliage, thus, creating the feel of historic, traditional neighborhoods.
A wonderful, intimate courtyard will provide a private getaway for each homeowner. Here the owner may find an outdoor kitchen, fireplace or lovely garden screened by evergreen foliage from the adjacent homes. Underground irrigation for each home site will provide convenience to the homeowners and a lush look to the entire community.
All Avenue and Cottage lots will have rear entry alleyway garages preserving the beautiful front streetscapes. Each garage will be generously sized, accommodating two large vehicles and providing abundant storage. In most cases, covered breezeways will connect the garage to the main house. Lovely wrought iron mailboxes will be located on the alleyways for convenient retrieval of mail.
Cottages
(2000 - 2500 sq ft)
Avenue Homes
(2500 - 2900 sq ft)
Manor Homes
(3000 - 3300 sq ft)