Masterplan
During 2005 Egypt Bluff Properties engaged respected masterplanners, Bill Peters Architects, to assist in the development of a plan to re-develop Brigadoon Subdivision and the adjoining 100 acres. We were excited to leverage off the strengths of the current development; natural scenic home sites within a gated community and proximity to Alabama's second largest lake, beautiful Wheeler Lake. In addition, we continued with the Scottish theme and restrictive covenants similar to the existing Brigadoon Owner Association's covenants in the new phases.
We explored the Traditional Neighborhood Development (TND) style of planning to create a sense of place that connected the residents to each other, the land, the water and the community. Our plan has incorporated extensive green spaces and interconnecting walking trails. We have created streets throughout the community that are narrower, to slow traffic. We have planned a community with a high degree of connectivity.
Similar to historic neighborhoods, our new phases will offer homes in a variety of styles, sizes and prices, with garage entries to the rear accessed from alleyways. Starting in the low 300's, our single family homes will offer intimate lot sizes for those wishing to enjoy lovely courtyards without the responsibility a large yard to maintain and range to the larger more traditional acre lots. The plan envisions approximately 160 new lots for building homes of various sizes and prices. We will have something for everyone.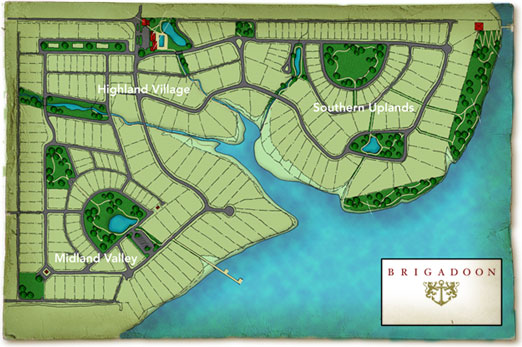 Phases
Phase I - Highland Village
Phase II - Southern Uplands
Phase III - Midland Valley
Homes and Lots
Cottage Homes & Lots
Crescent Homes & Lots
Avenue Homes & Lots
Lots on the Lawn
Manor Home & Lots
Green Space Names
Pipers Lawn
Coldstream Forest
Laird's Crescent
Dunbarton Crescent
Dunbarton Lake
Glasgow Green
Tartan Field
Lochview Common
Gaelic Green
Stirling Common
Southern Upland Way
West Highland Way
Streets and Alleys
Pipers Square
Aberdeen Avenue
Aberdeen Lane
Dunbarton Way
Coldstream Way East
Coldstream Way West
Stirling View Street
Croft Lane
Village Lane
Laird's Crescent
Laird's Lane
Rowan Court
Stonehaven Avenue
Dunbarton Crescent
Dunbarton Lane
Glasgow Place
Green Lane
Perth Avenue
Lochan Avenue
Brigadoon Drive
Inverness Place