Mini/Boat/RV Storage
Brigadoon Village also features an expansive self storage facility accommodating a wide range of storage needs including individual self storage units, enclosed dry boat storage, and secured RV and vehicle parking. Situated adjacent to the property, the facility is easily accessible to Brigadoon Village via a secure entry. Two buildings have been constructed. One is a 40'x200' building offering eight (8) 20'x40' units for storing large boats, cars, etc - a "second garage." The second building is "mini-storage" offering twenty (20) 10'x10' units. Outside trailer and RV storage is also available. The entire facility is enclosed with a security fence, and each unit is individually secured.
Storage Agreement
Storage Pricing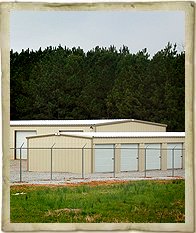 Product
Monthly
Half Season
Full Season
Mini Storage
10' x 10' Mini Storage Units
$40
10' x 20' Mini Storage Units (center panel removed 10'x10' with two door access
$60
20' x 40' Mini Storage Units (prior arrangement required, annual only)
N/A
N/A
$1,680
Covered Storage
Covered Storage for Boats on Trailers
$60
$350
$575
Covered Storage for Jet Skis on Trailers
$30
$175
$290
Gravel Storage within Fence
Boats on Trailers, RV's, Covered Utilitiy
$40
$250
$475
Jet Skis on Trailers
$30
Cars, Pick ups
$30
$175
$290
Small Flat Trailers, Boat, Jet Ski, Utility
N/A
N/A
$100
Lochview Marina Slip Renters may park the trailer of the watercraft kept at the marina within the gravel storage at no charge during the length of the slip rental.